Chad and I experienced so many wonderful things today.  We joined other volunteers and helped prepare a meal for the monthly dinner for the homeless hosted by Active Compassion Philly, a ministry of 10th Presbyterian Church in Philadelphia, PA.
However, nothing was as incredible as the 15 minute conversation I had with Sherry.  She stole my heart!
I want you to consider her Gramazin story.  She is not only confined to an electric wheelchair but she spent most of the afternoon lying on her back because of her medical condition.  That didn't stop her from navigating her wheelchair around the room, helping to set the tables for the homeless who would shortly arrive for a meal.  She was here today under considerably difficult circumstances to serve others in need.  Her extreme adversity didn't defeat her.  She was victorious over it.  It didn't stop her from loving others.  What a message for thousands of people across the US who are suffering with adversity!  We don't have to be defeated!  We can become inspirational!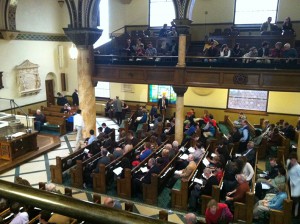 Sherry was passionate about the need for the residents of nursing homes to be able live independently and safely on their own.  She is an advocate for the cause, having traveled to Washington DC and having sent letters to leaders at the federal and state level.  She has a purpose in life.  Her physical limitations don't stop her.  May God bless her!
After our SEPTA train ride from Malvern, PA this morning, Chad and I attended 11 am services at the church.  The message of Dr. Liam Goligher was fittingly entitled "Where Mercy Reigns".  The notes scribbled all over my church bulletin attest to how the message spoke to the very heart of Gramazin.
Chad and I walked upstairs to fellowship hall.  We were greeted by David Apple, Executive Director of Active Compassion Philly, who I have had the pleasure to know for nearly five years.  He and volunteers were already at work preparing the room for the meal.
After helping to setup the tables and chairs, we were put to work preparing the beverages and turkey ham sandwiches.  I was impressed by the organization and the attention to detail, which included making sure caps were worn, hands were washed, and clean gloves were continuously worn.  The team worked in an assembly line fashion, putting the meat into the roll, slicing and inserting the tomatoes, and adding lettuce.  Approximately 75 sandwiches were prepared in less than a half hour.  The meal also included coleslaw and delicious soup.
The guests began to arrive after they attended a worship service conducted especially for them downstairs.  After a brief prayer, a team from the youth group of Calvary Chapel of Philadelphia got busy serving the food and getting the guests drinks.  A volunteer from the church sat at each table, helping extend friendship and love to everyone who enjoyed the meal.
Vivian Dow has been a leader in this ministry for over 20 years.  She has continued the commitment she and her late husband made together to meet the needs of the homeless years before his passing in 2002.  She explained to me how the ministry has made a pledge to serve the homeless with waiters, giving them the same dignity and respect that other individuals receive at fine restaurants.  Compassion and mercy are about treating others with honor, regardless of the circumstance they are in.  David Apple believes the homeless need to know their long-term spiritual needs are just as important as the need they have for a decent meal.
It was a day of inspiration for both Chad and I.  We ask God's blessings on each person we saw today, whether they were in the role of a volunteer or a guest.
A special thanks goes tonight to Sherry for touching my life in a big way.
td>
| | |
| --- | --- |
| Sarah Brubaker, volunteer with Active Compassion Philly | SEPTA train that took Charles and Chad to Philadelphia |
| ACTS team setting up for homeless dinner | Sherry, volunteer with Active Compassion Philly |
| Ceiling of 10th Presbyterian Church | The exterior of 10th Presbyterian Church, Philadelphia, PA |
| The interior of 10th Presbyterian Church, Philadelphia, PA during worship service | Vivian Dow, volunteer with Active Compassion Philly |
| Guests enjoying meal served by Active Compassion Philly | Chad Wagner making sandwiches at Active Compassion Philly |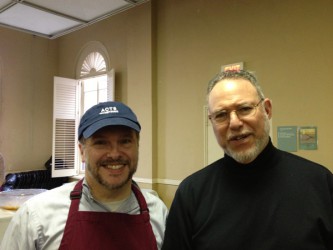 Charles Wagner, of Gramazin, and David Apple, of Active Compassion Philly, January 13, 2013
Charles Wagner, of Gramazin, volunteering at Active Compassion Philly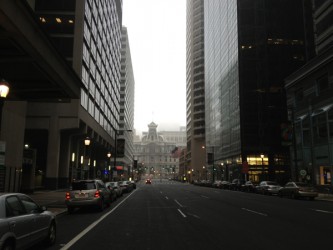 Philadelphia City Hall on foggy January 13, 2013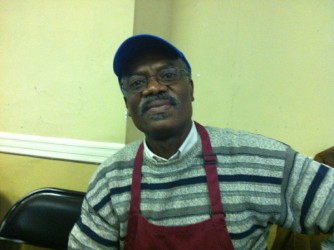 Owusu Ansah, volunteer with Active Compassion Philly
Philadelphia skyline on Gramazin visit to Active Compassion Philly