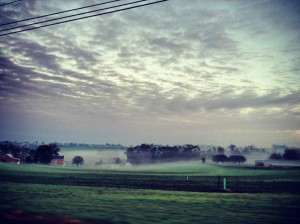 A couple of months ago, I never would have imagined driving two hours just to plant a few trees, pick trash out of a stream, and take almost a hundred drive-by photos of Baltimore. But that's what my father and I accomplished on Saturday. And it was a nice preview of things to come.
It made me think of our trip, as a whole, next summer. There's something beautiful about strangers coming together for the purpose of acting on something most people wouldn't exactly "jump" to do. We might feel uneasy, at first, but that's result of some of the societal issues we have nowadays. And that's okay. Because Gramazin's purpose is to energize communities and build a sense of togetherness, to begin with. To give an organization like Blue Water Baltimore (http://www.bluewaterbaltimore.org/) a voice to those who are unaware of them.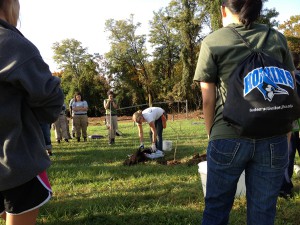 Overall, the experience was wonderful. Debra Lenik and the Americorps volunteers were more than eager to help everyone out. We got to know a few of the strangers, and now have a clear understanding about what Blue Water Baltimore is all about. And also see the importance of the trees and the role they play in keeping a clean environment and an awareness of how trash can affect the local water ways.
Here's a synopsis of what was accomplished, from Debra Lenik, that we received today via email:
"The trees look amazing and the stream even better. Not only did we plant a grand total of 60 trees, but we also removed 18 bags of trash (a little over 500 lbs) from the Herring Run—all in under 3 hours. Once the trees start maturing, they'll help the stream even more by reducing the amount of polluted runoff that ends up there and by absorbing excess nutrients that cause algae blooms and therefore fish kills. That's a pretty decent effort for a Saturday morning!"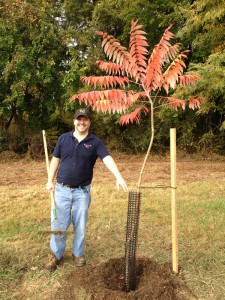 Afterwards, we spoke to Lenik, who is 23 years old, and asked her about why she got involved with Blue Water Baltimore. As it turns out, her mother had been a part of the New Jersey's Department of Environmental Protection for many years, and she loves to swim. But with the condition of Baltimore's rivers, she's rarely had the opportunity to swim in them.
"Personally, I really love to swim and it's actually not safe to swim in any of Baltimore's rivers. They're all contaminated. So doing things like planting trees and cleaning up trash can really help to restore their health. That's what it's all about for me."
One of her favorite things about working with Blue Water Baltimore includes the times when she can observe the progress of the trees' growth.
"Working for Blue Water Baltimore for a little over 2 years, it's really cool to go back to the sites that I planted when I first started working here and seeing how much bigger the trees have gotten."
She also spoke about the feedback she's received from the local community.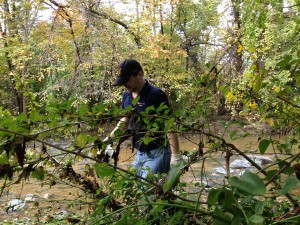 "People generally feel positive about it. When we were setting up last night, a couple of people from the neighborhood came down, just to check it out and see what we were doing and what we are up to. I think a lot of people want to see the stream restored. I hate to tell kids that they shouldn't be playing in the water, when they want to explore the stream in their own backyard. I think that people are generally in support of it but people are often unaware of how to change their behavior to impact the health of the stream."
In general, Blue Water Baltimore works with a ton of schools, businesses, and churches, educating them about Baltimore's water ways, in an attempt to get them to come out to the volunteer activities, and, inevitably, write to the city about their experience.
"For me, the most valuable thing I can hear after a volunteer event is for people to come down here, who have never had experience with it before, and for them to be like, 'I am never going throw my trash out the window, or down the drain, ever again,'" Lenik said.
Blue Water Baltimore's message could not have rung more true than when we were driving through Baltimore and saw a man kick some trash to the curb and then proceed to stuff it down into the storm drain.
Please feel free to contact Blue Water Baltimore, our trip has moved you in anyway:http://www.bluewaterbaltimore.org/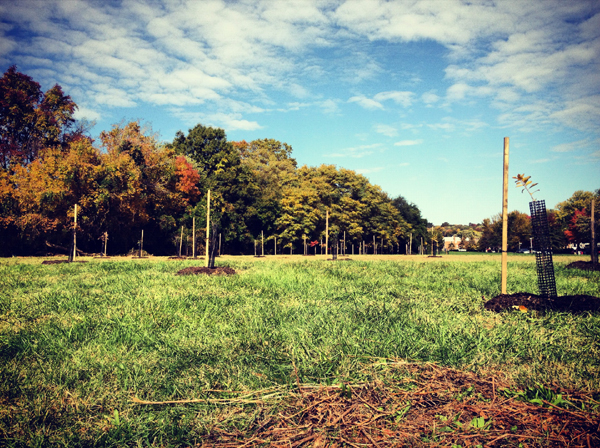 Charles and Chad Wagner planted trees as volunteers for Blue Water Baltimore at Herring Run Park in Baltimore, MD on October 20, 2012. An article about our experience will be posted soon.
---
| | |
| --- | --- |
| Herring Run Park before the tree planting | Chad cleaning trash along bank of Herring Run Creek |
| Chad Wagner interviews Debra Lenik at Herring Run Park | Chad Wagner works hard planting trees at Herring Run Park |
| Charles Wagner cleaning the bank of Herring Run Creek | Debra Lenik instructs volunteers before the tree planting at Herring Run Park |
| Charles Wagner stands next to planted tree | Debra Lenik of Blue Water Baltimore shares her thoughts with Gramazin |
| Gramazin tours downtown Baltimore, MD | Gramazin met Carolynn Box and Stephen Amato of 5gyres.org of San Francisco, CA |
| Gramazin met John Johnson of Americorps | Gramazin met Ashley Coleman of Americorps |
| Gramazin plants a sumac tree | Gramazin visits Camden Yards in Baltimore, MD |
| Gramazin visits M & T Bank Stadium in Baltimore, MD | |