I Want to Know the Word of God
Take Every Passage to Prayer - Volume 2, The Gospels
Charles Wagner, the author, never graduated from seminary. He was never a pastor of a church. He spent years thinking God didn't love him. In 2004, broken and despairing of life, he was hospitalized because he wanted to kill himself. He seems like the least qualified man to write a commentary about the Bible. However, he cried out to God for deliverance. God answered and opened his eyes so he could see how dearly he was loved by his heavenly Father. Charles soon experienced an insatiable appetite to understand every verse in the Word of God. He wrote this book because He wanted to know God and serve Him with his whole life.
Charles understands that many believers are hungry to understand the Bible more than they do. An experienced trainer, having taught computer technology to over 8,000 adults, Charles knows how to convey concepts with easy to understand language. He understands that many believers do not want to read scholarly commentaries that leave their heads spinning. He also understands that believers are busy and may only have a few minutes a day to study the Bible. Therefore, Charles wrote Take Every Passage to Prayer, Volume 2 - The Gospels for the non-seminary student to read and, with its short prayers of application, bold and bulleted text, he made the book perfect for quick browsing and understanding of key concepts. The 1,000 footnotes in the book are for believers who want to dig deeper into the text.
This 700+ page printed book, and 1,000+ page Kindle version, follows the life of Christ in chronological order of events. The reader can experience what it must of been like to travel with Jesus and His disciples from place to place over three years. There are 177 separate passages, readings if you prefer, that makes this scholarly work digestable as a daily devotional that can be completed in six months. To keep himself chained to Biblical doctrine, Charles wrote each passage as a letter to God the Father.
The purpose of this book is for the reader to understand the life and the teachings of Jesus Christ. When finished, the reader will understand who Jesus was, whom He claimed to be, why He said he came to earth, what was His mission in life, what He experienced in His three years of ministry, how He taught us to live our lives, how and why He died, and how He came back to life. The purpose of the book is to give you hope not only for this life but hope for the life to come after you die. Charles had many of his questions answered by his study of the Word of God. He then devoted himself to writing a book that will answer those same questions for you. When you've finished the book, Charles hopes his words will have led you to dedicate your lives to the Jesus who loves you so much.
I Want a Deeper Prayer Life
Prayer remains a struggle for many believers. How should a Christian pray when they lose their job? When they struggle with addiction? When their next door neighbor is giving them a hard time? When they are facing a serious operation? When they are facing an empty nest? When they are falling in love? When their boss doesn't affirm their work? When they are angry at God? When they survived a house fire? The two-volume Take Every Thought to Prayer was Charles Wagner's first book. There are a combined 757 prayers on all kinds of subjects, human experiences, situations, and circumstances in Volume 1, Prayers to Love God and in Volume 2, Prayers to Love Your Neighbor. Not sure how to pray to your loving Father in heaven? Find the prayer similar to your situation, your thoughts, or your feelings and be blessed with ideas about how you can approach your Creator who is eager to hear from you.
I Want to Know the Word of God
Take Every Passage to Prayer - Volume 3, Acts through Revelation
Take Every Passage to Prayer, Volume 3 – Acts through Revelation is a devotional, commentary, and prayer guide for the study of the beginning of the church after the ascension of Jesus Christ. It is the companion book to Take Every Passage to Prayer, Volume 2 - The Gospels. This book was written to help those who are intimidated by Bible study. Each passage in this easy-to-read work is written as a letter to God and begins with a prayer of application.
Coming in November 2023
The Two Souls of Heidi Lonsberry
In a smoke-filled room in a seedy motel, Heidi Lonsberry cried out to God to rescue her. The 31-year-old single mother on welfare, estranged from her mother, has had a hard life. With tears streaming down her cheeks, she thought about overdosing on the cocaine that was available down the hall. However, she makes one final appeal for a miracle. God hears her prayer and sends her friend Troy Ashford, a despairing and broken 44-year-old divorced man, to her motel to comfort her. Their lives are radically transformed in that room by the divine creativity and power of God. An angel named Witness shares the story with us as we encounter lessons about the stubborn rebellious heart of people, God's discipline and compassion, divine planning, testimony sharing, prayer, identity, Biblical counseling, spiritual transformation, discipleship, mentoring, Christian community, and what it means to be a godly man or woman.
Coming in January 2024
About the Artist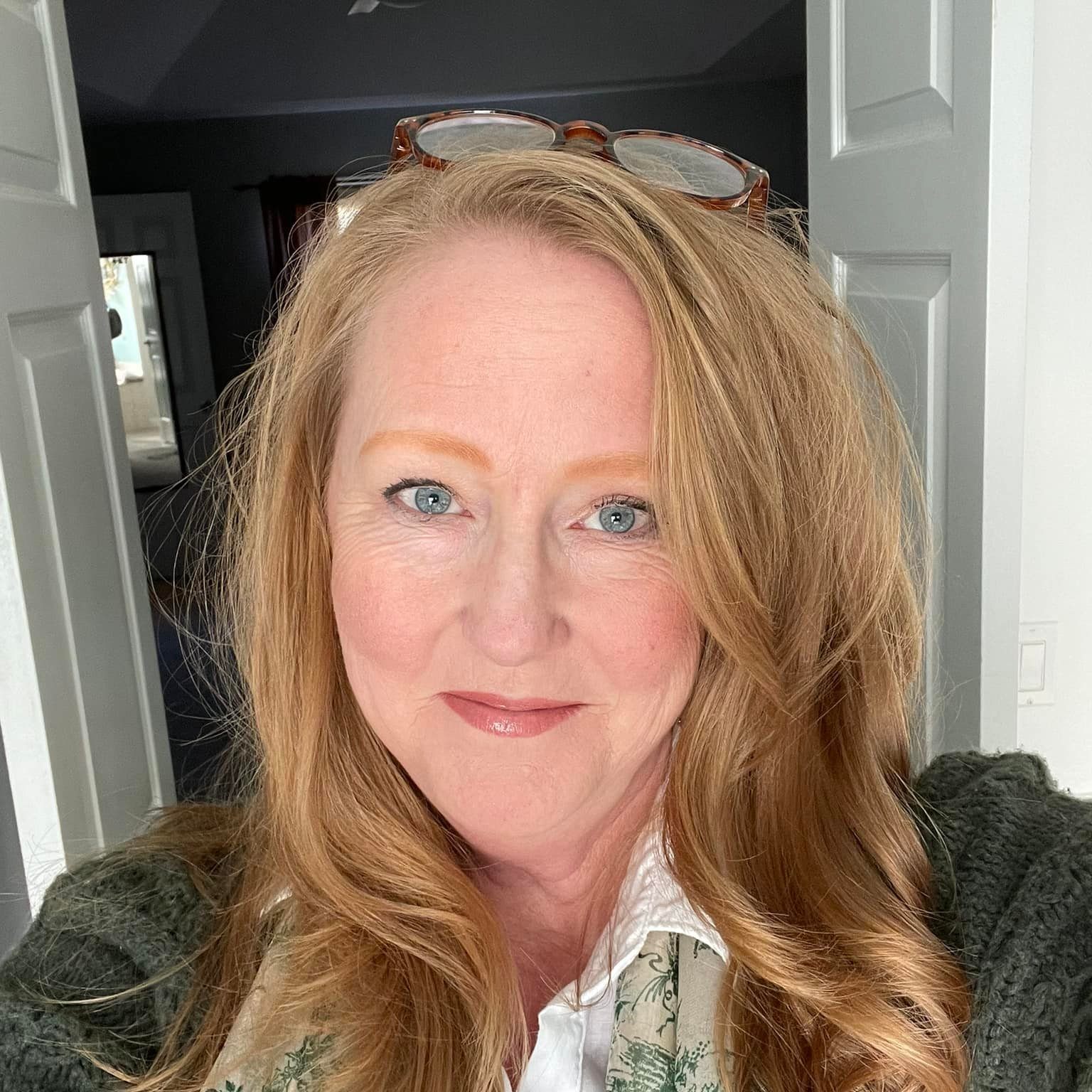 Holly Young is an artist residing in Cincinnati, Ohio. She holds a bachelor's degree in Business Administration.   She has had a career in the corporate world, founded a nonprofit called New Life Furniture serving those in need, all while being an artist and woodworker.  Her choice medium is acrylic but does work in all mediums! She has also painted large murals across the country.  Her company, New Creation Artwork, is based on 2 Corinthians 5:17.  Her work can be found and purchased in local coffee shops and thru social media!
She is married to her high school sweetheart and has two grown children and currently, two grandchildren! She gives God the glory for every aspect of her life!
Contact Holly via
Email:  Hollyrbyoung@gmail.com
Facebook: New Creation Artwork
Instagram: @Newcreationartwork
Can someone please help me share the gospel with a friend or family member?
Absolutely. We have prepared a page for anyone who wants to learn more about the Word of God and about Jesus Christ. Click on the button below and share that link with the person whom the Holy Spirit has put on your heart.
Give Me Inspiring Testimonies
Does Jesus Christ really change people's lives in the 21st century? Of course He does. Gramazin is gathering website links where you can read a multitude of testimonies. We have just begun this process. We expect to have links for you to enjoy from a link in this position sometime in the Spring of 2024.
Help Me Prepare My Testimony
"They are talking about testimonies again in church. Ugh! Look, I love the Lord. I want to honor Him with my life. However, the thought of sharing my story with anyone else is frightening! I don't know what to say or how to say it! What if I mess up? What if I say something I shouldn't say? Even worse, what if I make myself vulnerable and it doesn't help anyone. What if people criticize my testimony? What if I make a fool of myself?"
Coming in 2024 - Testimony Builder
The Gramazin Testimony Builder is a full-featured web application designed to help believers prepare their testimony. Believers will be able to login 24/7, select from a smorgasboard of topics, answer the thought-provoking questions, and then assemble and print their testimony.
With the Gramazin Testimony Task Force, you are not alone preparing your testimony! A team of believers from several churches in your area are passionate about testimonies in general and your testimony in particular.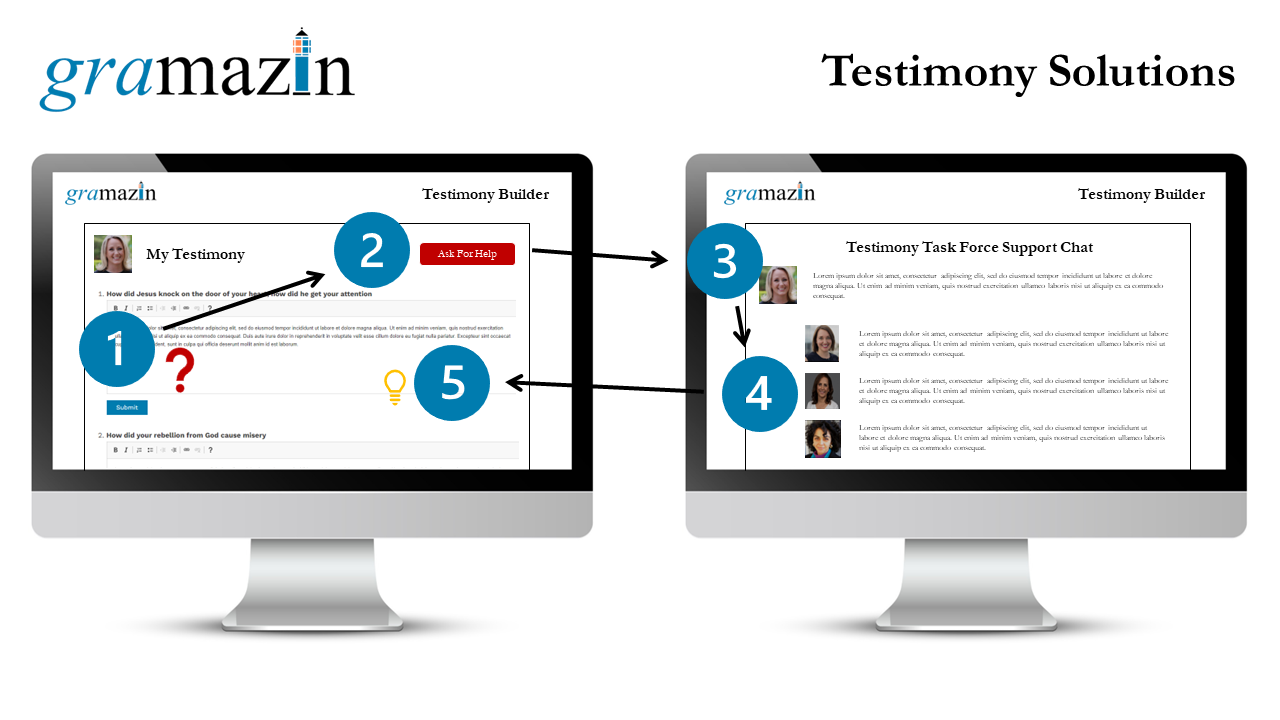 Login to Gramazin and enjoy our Testimony Builder. We ask you questions, you answer them, and, when you are finished, you have the draft of your testimony!
Uh oh. You are stumped. You don't know how to answer the question. Just like a game show, you can ask for help.
You post a request for help on the Testimony Task Force Support Chat.
Your dedicated coaches on the Task Force reply to your post, encouraging you, inspiring you, and giving you ideas on how to answer the question.
You return to the Testimony Builder and continue preparing your testimony, with your support team always ready to help you again.
I Want The Courage to Love My Neighbor
Have you ever felt uncomfortable when someone, speaking from the church pulpit or at a conference, makes a plea for you to get involved in local ministry? Have you ever admired someone who visits the sick and the imprisoned, or who feeds the homeless, because you couldn't ever imagine yourself doing that? Would you rather skip the passages in the Bible where Jesus calls upon Christians to build the Kingdom of God?
If these questions resonate with your heart, do you have a deep down desire to overcome your resistance and hesitation to get involved in local outreach ministry? Would you like to have the courage and confidence to become the person who other believers are inspired to follow into local missions?
If your answer is "yes", 72Stories is for you. 72Stories is the Gramazin web application that acts like a ministry training simulator.
Your team can divide the town into sections, with each player taking responsibility for a street or two.
Here's how it works. A team from your church, ministry, or school forms and purchases a license. Each member of your team uses that license to register on Gramazin.com. Your team enters into the fictitious seaside community of West Hunter USA. There are over 250 locations in town where you can meet the 3,000 realistic characters. It takes a little bit of effort to establish trust with a character. The more simulated time you spend with them, the greater the trust they have in you, and the more they reveal about who they are. Your simulated prayers and good works in a character's life, combined with the impact other members of your team are having on them, lead to a noticable change in the character's attitudes. They become more open to receiving the gospel of Jesus Christ.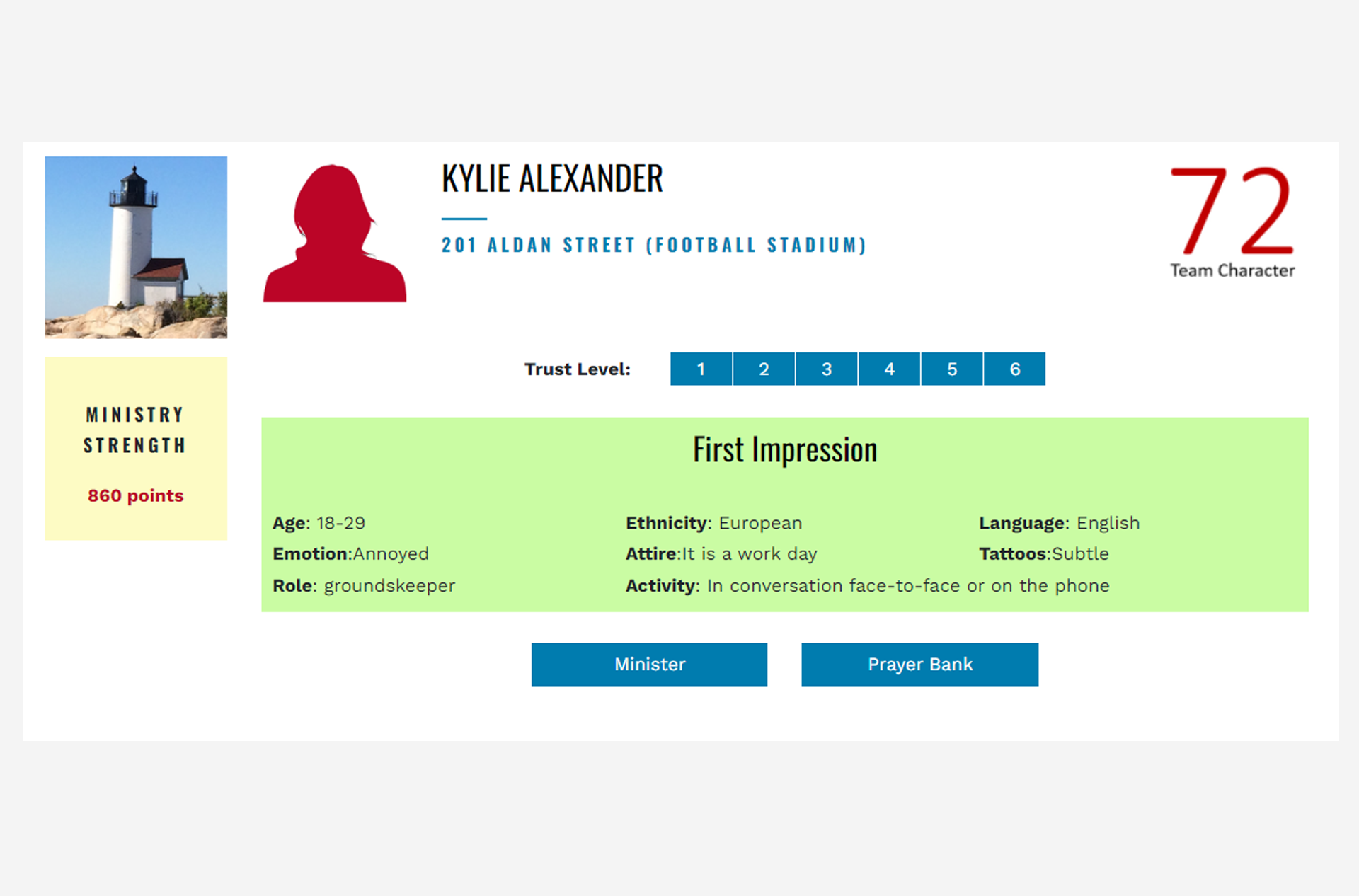 The landing page for each character in 72Stories. You can minister to them or add prayers to a prayer bank for the character. Simulated prayers have an impact on the character.
However, things can get derailed. Your character can give into temptation and regress. You, or another teammate, may do something that offends the character and they lose trust in you. The character may suddenly die. You can run out of ministry strength and find yourself unable to minister in the town.
You will encounter both pleasant and nasty fictitious characters. The nasty ones may treat you poorly. In a community of 3,000 people, you will encounter people with all kinds of personal crises, including but not limited to crises such as addiction, criminal records, divorce, health problems, and unemployment. With your annual subscription, your team's goal is to persevere and lead characters in town to faith in Jesus Christ.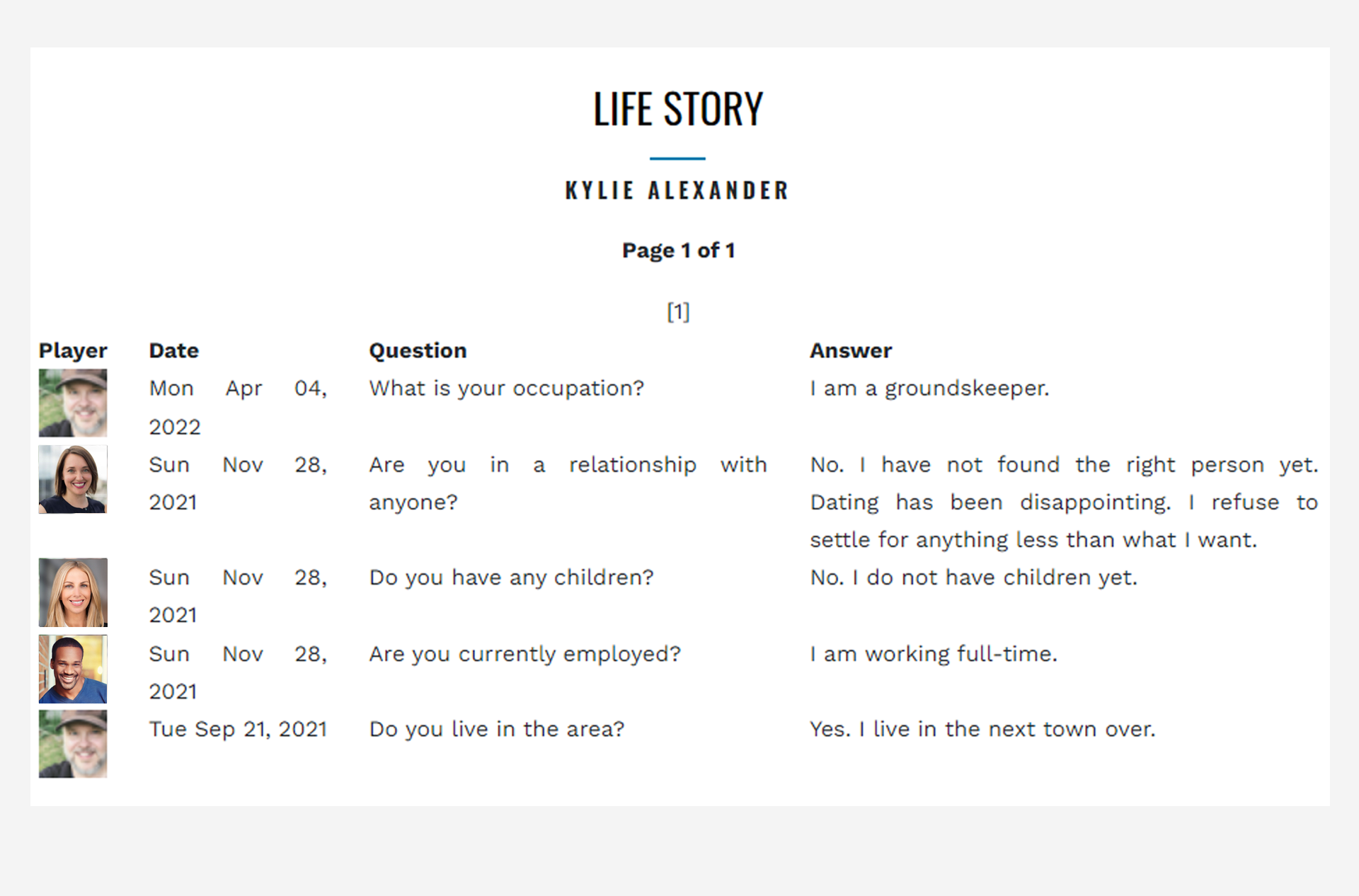 You and your teammates get to know each character's story one question at a time.
What's the point? 72Stories creates a plethora of conversation topics for your team to chat about local ministry in the 72Stories chat function. How would you handle a person like Trevor in real life? How do you get to know a stranger in a coffee shop? Thanks to 72Stories setting up literally thousands of realistic ministry scenarios, your team can brainstorm how to minister to real people with messy lives while each one of you sits safely at home on the sofa.
Something miraculous occurs. Thanks to your teammates talking through how to handle a variety of ministry challenges, you find yourself feeling confident and courageous. You are willing now to get involved in real life local outreach ministry at your church, ministry, or school.
As Kevin said in Home Alone, you might be able to say:
"I'm not afraid anymore."
This graphic illustrates the core ministry engine of 72Stories.
Lord willing, 72Stories will be released in the Fall of 2024.
I Want To Do Something to Promote Spiritual Revival
The spiritual revival we are talking about is not achieved through politics. There are many other people fighting for truth and justice in the political arena. May God lead them to do what He believes is right for our country. However, the spiritual revival we are pursuing is the building of the Kingdom of God in the hearts and minds of Americans in every state in this nation. A nation of dedicated believers in Jesus Christ will demand righteousness from their political leaders, transforming our nation in ways that is impossible by worldly and secular efforts.
The spiritual revival we are talking about is not achieved through politics. There are many other people fighting for truth and justice in the political arena. May God lead them to do what He believes is right for our country. However, the spiritual revival we are pursuing is the building of the Kingdom of God in the hearts and minds of Americans in every state in this nation. A nation of dedicated believers in Jesus Christ will demand righteousness from their political leaders, transforming our nation in ways that is impossible by worldly and secular efforts.
Spiritual revival advances across our land when believers in Jesus Christ surrender their lives to Him and obey the Great Commission. Such men and women prayerfully share their story ("testimony") of hope about how Jesus Christ rescued them with their neighbors who are in despair. They couple their testimony with good works they do for their neighbors in need.
We imagine a day when residents of communities across America, sobbing on their front steps about a crisis in their lives, know that they can go into their home, get on their computer, and visit the websites of nearby churches because they know those websites will contain inspiring stories of hope. Just like people expect to see steeples on church buildings, we want them to expect to find testimonies promimently displayed on church websites as well.
Churches will become more to non-believers than buildings where perfect strangers, without any concern in the world, enter into every Sunday. Churches will become to them the home of people who have overcome divorce, addiction, grief, loneliness, health and financial crises, and imprisonment because of their faith in Christ. Thanks to the published testimonies, the non-believers with messy and broken lives will think they might very well fit in, daring to come to a church event or worship service.
The Gramazin Testimony Task Force is a team of believers from churches in a region who voluntarily work together to encourage a coalition of churches to publish testimonies of hope on their websites. The team assists the churches during the process. The team also coaches and encourages believers from the churches who are preparing their testimonies. When a suitable number of testimonies have been published by participating churches, the task force orchestrates a public service announcement to the general public that stories of hope are now available on our partnering church websites.
Gramazin is looking to form task forces in every state, creating a movement that leads to testimonies sprouting like Spring flowers on church websites across this land.
Our Vision for the Gramazin Testimony Taskforce
Our Passion for the Gramazin Testimony Taskforce
Charles Wagner, the founder of Gramazin, shares his vision for the Testimony Task Force in a church on the North Shore of Boston on January 22, 2023. The church has granted Charles permission to use this clip from the service.
We've Built a Software Solution for Gramazin Testimony Task Forces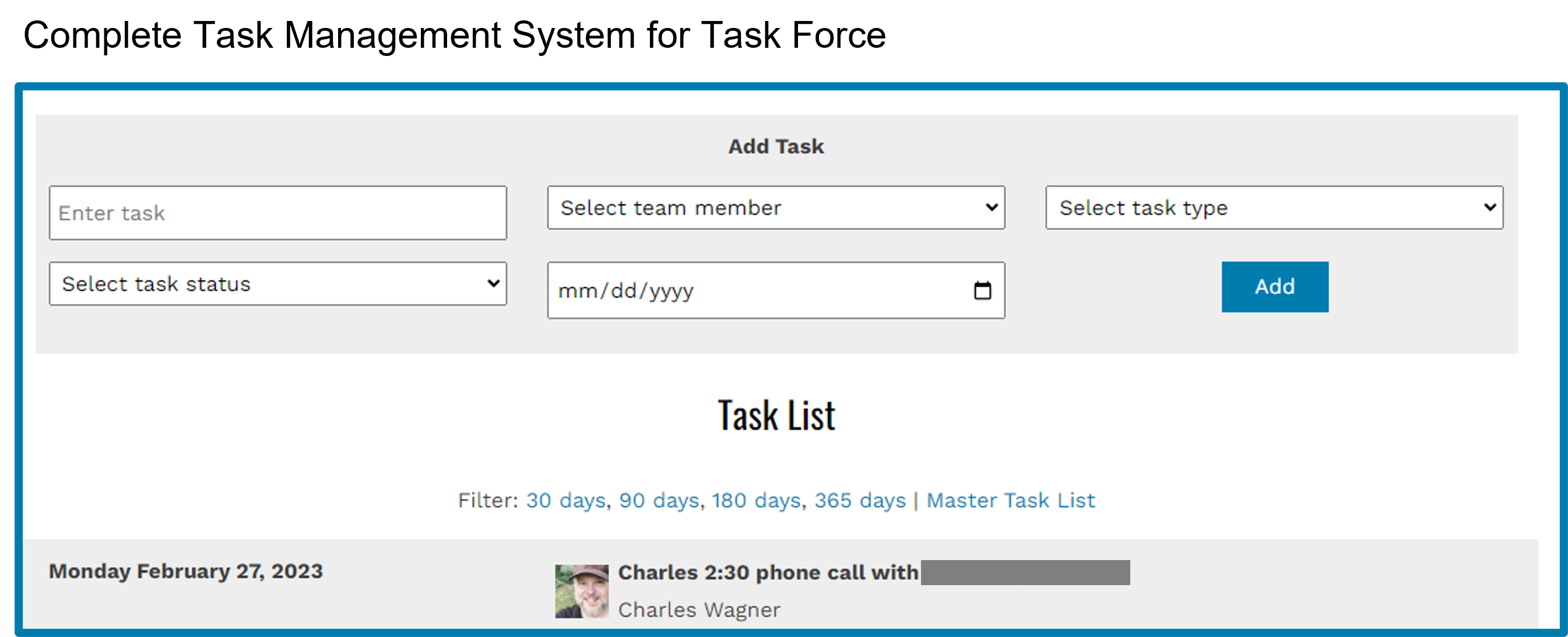 Each Gramazin Testimony Task Force has a private space to manage who will do what to encourage churches in their region to share testimonies on their website.
Each Gramzin Testimony Task Force member has a profile where they can share their passion for testimony sharing with their teammates and with believers who are preparing their testimonies on Gramazin.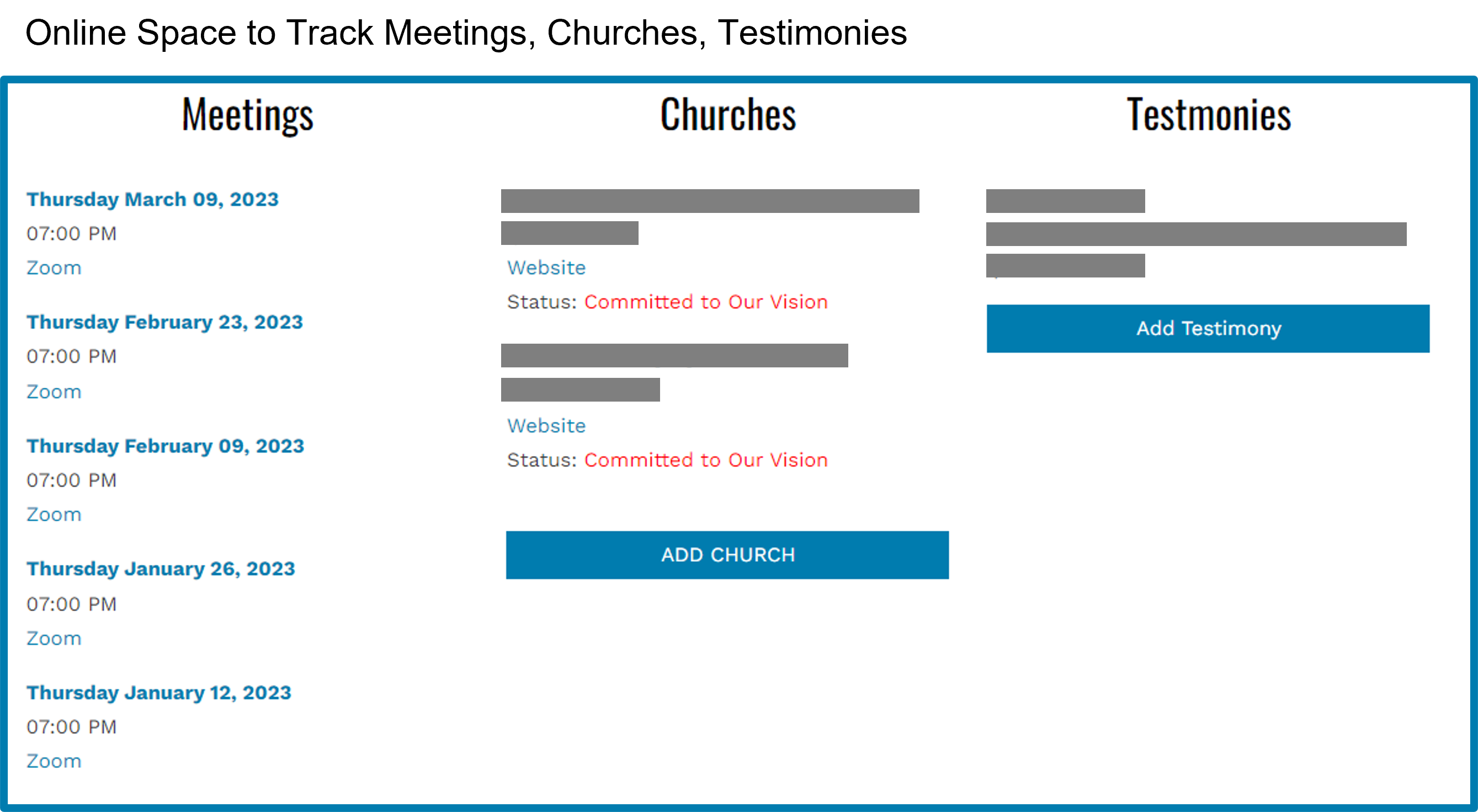 Each Gramazin Testimony Task Force team has their own space to manage their meetings, the churches they are partnering with, and encourage the believers who they are working with to build their testimonies.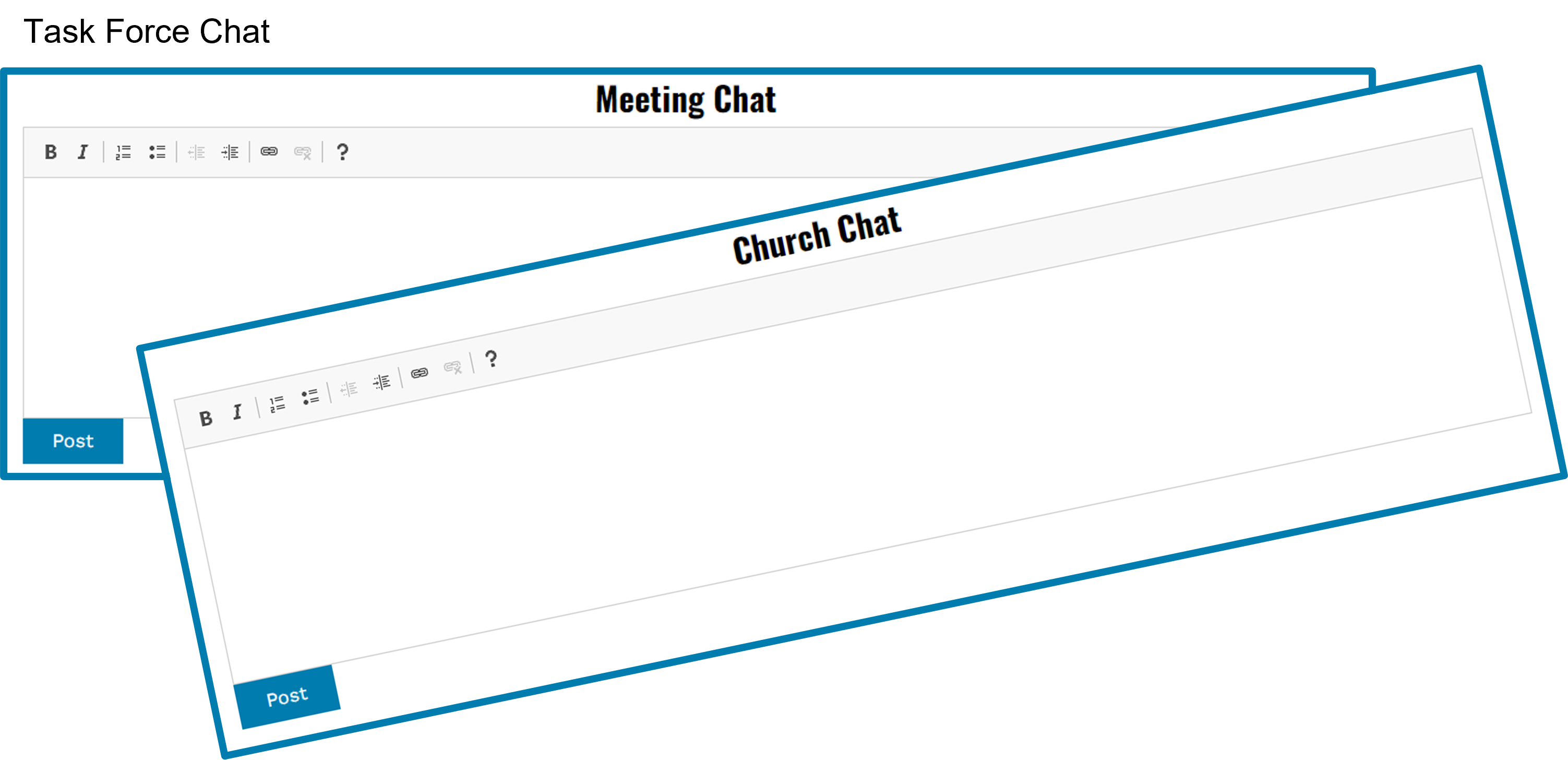 Gramazin Testimony Task Force members can chat and reply about their meetings and the churches they are partnering with.
Believers who want to share their testimony but don't know how can login to Gramazin and use our Testimony Builder. Each Task Force Member can act as a "helper" so that the believers preparing their testimonies have a team helping them.
Join A Task Force or Create Your Own
Do you find this vision intriguing? Contact Gramazin today to discuss joining a task force or starting a task force in your region.